---

the development of knowledge and skills through the use of information and communication technologies to support interactions for learning with content, learning activities and with other people

---
eLearning Projects
The Academic Innovation Fund has supported the creation, implementation and evaluation of a number of eLearning projects. Projects are showcased on the Academic Innovation Fund website.
eLearning Resources
York University provides a wealth of resources to assist educators in developing and implementing eLearning projects. A complete list of resources can be found on The Teaching Commons website.
A Common Language for eLearning
Descriptive terms and a common language were developed to identify eLearning strategies and facilitate conversations about the range of possibilities for innovative use of technology in teaching and learning. With subway construction underway at York, it seemed appropriate to use this analogy to illustrate how we are building new systems to support student learning.
eLearning Strategies
A "traditional" lecture or seminar format is used without technology.
A traditional face-to-face lecture format is supplemented by the use of presentation or online tools such as PowerPoint slides, videos, "clickers", etc.
Face-to-face instruction occurs in a setting where every student has access to a computer (lab or personal laptop) and the computer applications or online materials are integral to the instruction.
A face-to-face lecture delivery format is utilized where learning is supplemented by web materials, resources or activities. Web-enhanced courses will use a learning management system (LMS) such as Moodle to make lecture notes and recordings available, provide links to resources, online quizzes, discussion forums, etc. Usual face-to-face instruction time remains the same in these courses despite the addition of a web component.
The flipped classroom is a form of web-enhanced learning which involves the practice of giving students access to lectures electronically and using the face-to-face class time for interactive activities.
In the blended mode, also known as 'hybrid', class time is a combination of face-to-face and online delivery.
Face-to-face instruction is replaced by online instruction for one third of the course, while one third of the course is delivered face-to-face. The remaining third may be any combination of online or face-to-face.
Total course contact hours will remain the same as a traditional face-to-face course.
Students do not physically attend classes. All lectures and course activities are delivered online. The student may be required to come to campus (or another location) to write tests or exams.
Course directors may create opportunities for students to come to campus but attendance is not mandatory.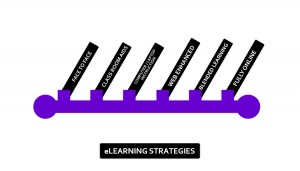 eLearning Strategies
eLearning at York: A Baseline Survey
A baseline survey conducted in 2011-12 provides insight into the extent to which eLearning has been used across the continuum from web-enhanced to blended learning to fully online.
York University's eLearning Mandate
The University Academic Plan (2010) refers to the need to demonstrate our commitment to academic quality, student success and engagement and outreach in relation to teaching and learning by "supporting innovative and flexible curriculum delivery through online and hybrid [blended] courses, as well as other elements of technology enhanced learning" (UAP, 2010: 8).
In the Spring of 2012, the Academic Technology Advisory (ATA) Group was established to provide eLearning advice and guidance to University executive leadership on the use of technology in enhancing the quality of teaching and learning and the overall academic experience of York's students. The first task that this group was mandated to undertake was the development of high level plans and strategies to guide the innovative use of technology in advancing the University's strategic priorities. A Case for Change eLearning Integration at York University was submitted to the Vice-President Academic & Provost in January 2013. The recommendations cited in the paper are currently being implemented.